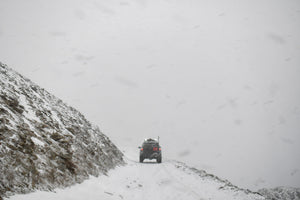 Our Colorado Adventure – or how a trip can be a bust and great at the same time
Like most people in this hobby, the San Juan Mountains of Colorado are a calling. Visiting the famous mountain passes is pretty much a requirement on any overlander's checklist. Living in North Carolina though, it's not quite as easy to make the trip, especially with work and family concerns. It's a nearly three days drive out there and back before you even begin to spend any time at the destination.
That's where Appalachian Toyota Round-up (ATR) comes into play. Hosted every Labor Day weekend at Windrock Park in Tennessee, it is one of the east coast's largest Toyota gatherings, and one we've been to ever since we started the Off Road division. The trick here is that with the event being in Tennessee, we would already be 5 hours closer to Colorado than we would be leaving from home, and that seemed like reason enough to try to make the trip happen! We did the math, and we'd have about three days available out in CO if we high tailed it over there after ATR.
So at 5am Sunday morning, we packed up our wet tents, departed ATR, and started heading west. In our group was three 4Runners – myself in "Salsa" my 2012 Trail, Phil in his silver  2018 TRD OR, and our friend Dan in "Bounty Runner", the beautifully wrapped 2015 4R. We also had our friend Alan in his Wrangler tagging along, and my Goldendoodle co-pilot (sadly, the last trip my Doodle made before passing unexpectedly  later that winter) and Dan's Belgian Malinois co-pilot duo. We drove two pretty long days, stopping to camp outside of Oklahoma City, and again near Durango, before we finally turned onto Highway 550 to begin the climb into the San Juan Mountains.
Now, when you ask locals when is the ideal time to visit the Colorado Mountains weather wise, the answer typically seems to be early September, which is exactly when we were arriving. We were looking forward to a few days of hitting the famous passes and seeing the beautiful mountain views. Our luck, our arrival also coincided with the second earliest snowfall on record for the Colorado mountains.
We pulled into Silverton mid morning, and proceeded North towards Animas Forks to begin the Alpine Loop. As we started airing down on the trail, we saw the snow clouds starting to enter the valleys behind us. We knew there was a chance of snow, but no one really knew how much it would be, given how early in the year it was, so we decided to push on up the mountain.
We hit Engineer Pass first, grabbing some killer photos  - the above photo that made the main image on the new website, for example. We were about three quarters of the way up the mountain when the snow started. It wasn't ordinary snow though, it was heavy flakes with some weird combination of marble sized ice chunks mixed in. We made it to the summit when the heavy part of the storm started to hit, winds picked up, and visibility started dropping rapidly. The snow and ice mix also started to rapidly pile up. We grabbed a few pictures at the top, then Dan chimed in "I really think its time we get off the mountain."
We turned around and started the decent. The snowy ice mixture quickly buried the trail, and things got slick quick. There were quite a few pucker moments – its usually not a god feeling to be sliding on ice and snow, but its even worse when there's a huge drop a foot off your door. With some careful driving we made it back down to Animas Forks, took a few more photos, and headed back to Silverton for some pizza and beer. That would be the only pass we could hit the entire trip – the snow didn't let up until the day we left to head home.
The next day we headed to Ouray, grabbed some delicious burgers, and explored a little around Yankee Girl Mine and Red Mountain Pass before heading back to our cabin. We packed up the next day and started the trip home, bummed that the passes were snowed over, but it was still the experience of a lifetime.
The trip definitely re-enforced the lesson of being prepared. We thankfully had taken winter gear in the middle of the summer, and packed extra supplies. The drive back down Engineer in the white-out was definitely the most dangerous drive I've done so far in my life, and was not one to take lightly. It could have easily gone very wrong, very quickly, but that's where relying on your skills and knowing your vehicle makes the difference. Taking classes with off road driving schools like our friends Overland Experts can help you learn what to do and how your vehicle handles in situations like these.
 It would have been nice to hit more of the mountains, but it also created a probably once in a lifetime drive down a famous pass in a whiteout. All I know is, we'll try to be back.
And never hesitate to take the trip, or take your furry friend. My Goldendoodle had the best time, and even though he made the trip a bit more difficult for me, you could tell he loved it. I would have badly regretted leaving him behind to take him "next time" with him passing that winter. It was a harsh reminder that next time isn't guaranteed.
So take the trip! Make the memories. And if you need help getting your vehicle equipped to do so, well that's what we're here for!
- Jacob
---
1 comment